GUEST ARTICLE--This article was written by one of NuWave's IT consultants for the IT Project Blog.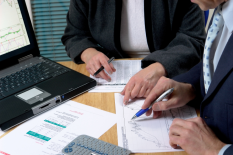 We all know that defining IT project requirements is a crucial task when initiating new projects. But did you know that Standish Group's CHAOS Report shows that a clear statement of requirements is one of the TOP THREE reasons for project success? Since it is clear that defining requirements is one of the top PM best practices, we have compiled a series of steps that every project team should follow in order to get on the track to success.
Business and Functional Requirements. The first step is for the IT project team and end users to define and document all of the business and functional requirements of the project. This process begins with a requirements document. This document details all business and functional requirements of the project. It details the "what" of the project.
Design Requirements. Next, the team and users define the design requirements and add them to the requirements document. The design requirements describe "how" to build the solution(s). All team members must fully understand all requirements before moving forward.
Project Phases. The next step is to outline the phases of the project based on the requirements. The end of each phase should have measurable deliverables so that it will be clear when a phase has been completed.
Project Schedule. The team then creates a project schedule from the determined phases. This should be approved before continuing.
Test Plans. Another PM best practice is to write and execute test plans during each project phase completion. Each requirement is listed in the test plan and cross referenced with its associated test to assure that every requirement is tested for success.
Completion. The project is deemed complete and successful when execution of the corresponding test plan validates that the project has met each documented requirement. Of course, in order to be deemed successful, the project must also be completed within the budgeted time and cost.
This procedure puts the users of the solution and the team creating that solution on the same page throughout the project, leading to a greater success rate. Both sides understand and feel ownership of each documented requirement because they were both involved in defining requirements. As project phases are completed, project testing validates that all IT project requirements are met, and therefore the end product meets the overarching goals set in the very beginning. Please share your experiences with defining and following project requirements!